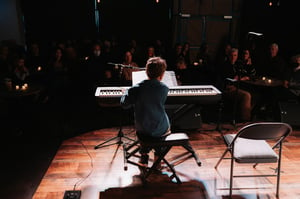 TWELVE TONE PIANO LAB
Embark on a enchanting musical odyssey with the piano as your guide. Discover the wonders of the piano lab and unlock your musical potential.
THE MAGIC OF MUSIC
WHY PIANO LAB?
MORE TIME IN STUDIO
Our group piano lessons offer more time in the studio, giving students ample opportunities to hone their skills and receive guidance from our dedicated instructors.
INDIVIDUAL ATTENTION
By providing students with additional studio time and promoting independent play and learning, they have the opportunity for increased interaction with teachers when they encounter challenges.
COLLABORATIVE LEARNING
Group lessons offer a delightful experience! Children relish engaging in playful activities and forging new friendships. It's an exceptional approach for children to acquire knowledge, collectively.
GUIDED HOME PRACTICE
We take the stress out of at-home practice by providing guided lessons, addressing learning challenges, and introducing gamification elements to make practice engaging.
INDEPENDENT LEARNING
At our core, we firmly believe that combining students with cutting-edge technology and an exceptional teacher is the ultimate recipe for mastering music. Data shows that students are 6x more likely to continue music in this format.
FLEXIBILITY
With our flexible schedule, parents can effortlessly schedule students weekly lessons and reschedule makeup lessons at their convenience throughout the week. Say goodbye to the stress of music lessons.
TWELVE TONE MUSICAL PROGRESSION
For children aged 4-6, this program offers an exciting introduction to music through fun group activities, showcasing talents in enjoyable performances, and preparing for the Piano Lab.
Suitable for children aged 6 and above, this engaging group lesson provides ample individual attention. Children thrive as they learn and play together in a supportive environment.
Elevate your musical journey at Twelve Tone's modern music studio, where your dreams come true through collaboration, melody creation, and unique composition.
LITTLE KEYS
$109/mo
Get ready to dive into the world of music with an exciting introduction that will pave the way for students to excel in our amazing group piano program.
PIANO LAB
$199/mo
3 1 Make-up class per month
Piano Lab offers an extraordinary group lesson experience for children aged 6 and above. Discover the essential foundations, foster collaboration, and indulge in endless fun.