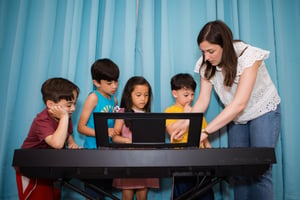 LITTLE KEYS
Experience a captivating introduction to the world of music and piano. This innovative program's main objective is to make music both enjoyable and engaging, setting the stage for an extraordinary musical journey that will last a lifetime.
THE MAGIC OF MUSIC
WHY LITTLE KEYS
MAKE MUSIC FUN
Little Tones creates a fun and exciting environment where young students connect the joy of learning music with having fun, setting them on a lifelong musical adventure.
COLLABORATIVE LEARNING
Children learn from a young age the importance of teamwork and collaboration. These skills are essential for becoming a valued member of an ensemble or band in Piano Lab or Twelve Tone Studios down the line.
FLEXIBILITY
With our flexible schedule, parents can effortlessly schedule students weekly lessons and reschedule makeup lessons at their convenience throughout the week. Say goodbye to the stress of music lessons.
TWELVE TONE MUSICAL PROGRESSION
For children aged 4-6, this program offers an exciting introduction to music through fun group activities, showcasing talents in enjoyable performances, and preparing for the Piano Lab.
Suitable for children aged 6 and above, this engaging group lesson provides ample individual attention. Children thrive as they learn and play together in a supportive environment.
Elevate your musical journey at Twelve Tone's modern music studio, where your dreams come true through collaboration, melody creation, and unique composition.